Our Process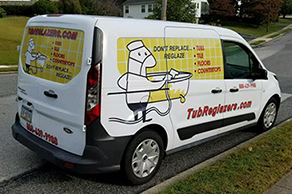 Initial Setup
Our first and most important step is to set job expectations and ask the customer about any concerns.
We then thoroughly protect areas with drop clothes, plastic, and masking.
Next, we set up proper ventilation to ensure all fumes are removed from the worksite.
Then, the surfaces to be reglazed are properly cleaned with industrial cleaners and etchers.
Finally, we sand or fill all chips and cracks with a special polymer filler.
Reglazing Process
First, we apply two coats of our bonding agent that insures proper adhesion for years to come.
We then mask off all other areas surrounding the project.
Next, we apply two coats of an epoxy primer for strength and durability.
Finally, we apply two-four coats of an aliphatic acrylic resin using fine spray equipment. This will provide a beautiful shine for years to come.
Post-Reglazing
After the application process, our technician removes all masking, plastic, and equipment.
Finally, the customer is shown the completed project and gives the final "thumbs-up".
Why Choose Us?
We are fully licensed and insured.
We carry full liability coverage. You'll be surprised how many contractors are not covered.
We have the BEST reglazing system…period.
Our reglazing system has been tested time and time again. Having done work for thousands of happy clients, we know you'll love your bathroom after we've given it a beautiful refresh.
We have been in business for over 20 years.
Our technician has over 20 years of reglazing experience. He has seen and done it all. If he can't fix it, it's not fixable. We take pride in a job well-done and our customers tell us daily, "Our tub looks like new!". Our friendly staff takes customer service to a whole other level; and we're not going anywhere. We plan on being in business for at least another 20 years!